Skip Navigation
Website Accessibility
1978 BC Rich B45 Neck Reset
Here you can see the saddle has been taken down to the level of the Ebony Bridge, and slots have been Dug into the bridge to provide some angle over the saddle. This is a typical quick fix, but not the correct fix.
Here again from the side view you can see the over accentuated slots.
Here you can see the strings at the 12th fret are over 3/16 off the fingerboard, and this is the lowest this can possibly go, and more than likely in time this will only get worse.
Here is a before picture of the Spanish heal joint to body.
With a very thin flexible saw, the neck is cut from the body leaving two flat surfaces much like a typical bolt on style neck. The same type I use on my guitars as well as companies like Taylor Guitars.
Here I have filled the slots that had been dug into the bridge. Not perfect but when the strings are on the fill will be unnoticeable.
After cleaning up the two surfaces, and resetting the neck angle, threaded inserts are installed in the heal of the neck, and matching bold holes are drilled into the heal block.
Inside view of the heal block. Unfortunately the serial number was wrote onto the heal block right where the bolts needed to be, but a repair tag will cover this with repairs and S/N
Finished bridge with slots filled and the saddle has a proper profile.
Now the string height at the 12th fret is correct and there is lots of room to move the saddle up or down.
Neck after Re-Fit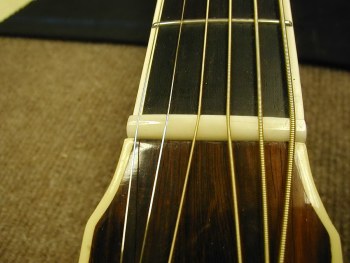 New bone nut to finish off this repair.
Plays like a Dream.